Bikini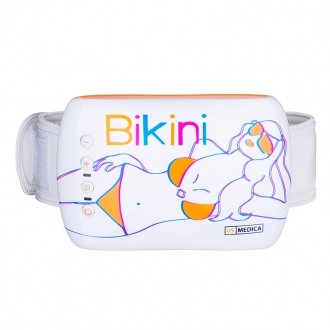 Deep vibrating massage
Helps on fast weight loss
Effective cellulite treatment
Relieves tension in muscles
Automatic and manual working modes
As you wear the slim massage belt, feel your muscles rhythmically flex and relax. Perfectly balanced oscillating nodes energize and soothe muscle groups in your tummy, seat, thighs and other areas while you read, watch TV or relax.
After a long day of work or exercise at the gym, oscillating massage belt increases circulation, relieves muscle fatigue and releases stress. Its dual massage nodes provide a deep, soothing massage to the muscles of your lower and upper back. Feature a 10-minute auto timer., including a sleek remote.
How to operate the Slim Massager Belt?
1. Wrap the belt firmly to your body and adjust the size by the fastener.
2 .Put the adapter jack of the adapter to the Power connector Jack of the belt.
3. Plug in the power adapter to the wall socket.
4. To turn on the unit, press the on/off power button, then press the massage mode button.
5. To choose intensity press "+" or "-" button
Colors: White
Power: 12-220 V
Timer: 10 minutes
© 2012. US MEDICA All rights reserved.
E-mail: info@us-medica.com
302-384-9943
1201 N.Orange St, Wilmington, DE 19801, USA