Aqua Balance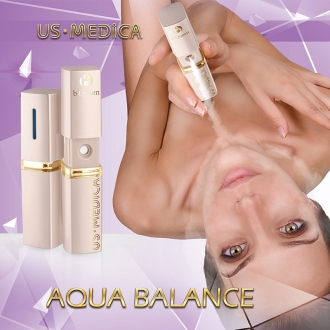 Key points:
Deep skin moisturizing
Wrinkles prevention
Eye and nose mucosa moisture
Easy breath in dry heat rooms
Battery operated
Powerful ultrasound generator
Facial Mist Sprayer Aqua Balance
To make your skin looking young and delicate everywhere and anytime US MEDICA invented a compact lipstick size Facial Mist Sprayer Aqua Balance.
Facial mist sprays are just what they sound like: misting bottles or atomizers. Thermal water large drops moisture only skin surface while US MEDICA Facial Mist Sprayer Aqua Balance generates water nanoparticles (0,3-0,9) helping to soothe, moisturize, relax and rejuvenate it deep into cutaneous pores.
You can use Aqua Balance if your face is feeling parched after a dehydrating plane trip, if your makeup has begun to wilt during the day or if you simply want a little spritz of something cool and refreshing taking sunbath or being in office.
© 2012. US MEDICA All rights reserved.
E-mail: info@us-medica.com
302-384-9943
1201 N.Orange St, Wilmington, DE 19801, USA