Angel Feet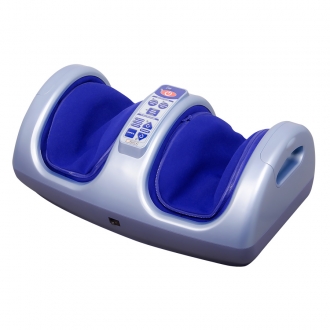 Automatic or manual massage programs
2 automatic programs to choose from: foot or calf
NEW! Massage rollers can rotate in 3 different speeds – High, Medium or Low
You can choose clockwise or counter clockwise massage rollers´ rotation
Easy-to-use controller
Easy-to-clean covers
Compact
The benefits of foot massage are obvious and known from the ancient world. Cute and smart ANGEL FEET Foot Massager is the new feet and calf massager which will make you fly, not walk!
Everybody needs a good foot rub - our feet do a great job for us every day and deserve a little treat. Years of experience show that the foot massage is effective if you suffer from arthritis, back pain, migraine, sleep problems, digesting disorder, stress, chronic fatigue syndrome. Using the ANGEL FEET Foot Massager helps to boost your energy and efficiency, and makes your sleep better.
Foot massage is an incredible and unique pleasure to get, besides that, it stimulates your entire body through the numerous acupressure points located on the surface of your feet. Foot massage calms down your nervous system and improves the blood circulation. Also, you can massage your calves or even arms in it!
Automatic or manual massage programs;
2 automatic programs to choose from: foot and calf;
NEW! Massage rollers can rotate in 3 different speeds - high, medium or low;
You can choose clockwise or counter clockwise massage rollers' rotation;
Easy-to-use controller
Easy-to-clean covers
Compact
© 2012. US MEDICA All rights reserved.
E-mail: info@us-medica.com
302-384-9943
1201 N.Orange St, Wilmington, DE 19801, USA